Check out the morphing monster cover illustration of
Professor Gargoyle
. This neat holographic facade left quite the impression when I unwrapped this newest release from Quirk Books.
I spent a few moments wiggling it back and forth, laughing at the creepy transformation.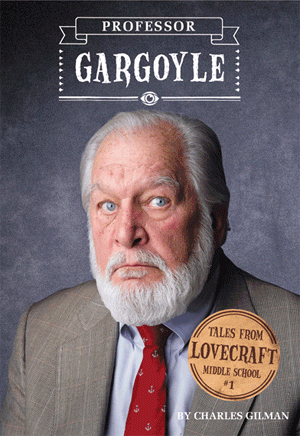 It's alright.
Judge this book by it's cover.
This first installment of the new
Tales from Lovecraft Middle School
series is marketed as a book for "middle-grade" readers, aged 10 and up. Fans of R.S. Stine's
Goosebumps
series are said to be in for a treat with this re-imagining of H.P. Lovecraft's twisted science fiction creations.
Quirk Books explains that the eerie, lenticular cover is composed of 12-16 animated frames. As the viewer's perspective shifts, so does the image.
Lovecraft Middle School is a state-of-the-art school in Massachusetts, complete with touch screen security built into the lockers. The green-certified school has an impressive list of attributes. This futuristic school is the talk of the town, and was built upon abandoned farmland that once gave refuge to countless animals... and perhaps something more sinister.
Thanks to a bit of redistricting, seventh-grader transfer Robert Arthur is one of Lovecraft's newest, and loneliest, students. Readers follow on Robert's heels as he witnesses a number of mysterious, creepy happenings and tries to avoid his bully (perhaps the most terrible beast of them all!).
Robert is not your average wimpy kid. His curiosity leads him into trouble with rats that bite, huge spiders, and a vortex in the library. Rather than sit around watching TV, Robert eagerly seeks adventures with his unnerving companions, be they rodents or teenage girls.
Knowledge, the acquisition and wielding of it, is the name of the game in
Professor Gargoyle
. Robert is challenged to see more than what meets the eye, and his curiosity leads him toward information that will help him save the school from dark forces that threaten. Students begin to disappear, and while parents don't suspect foul play, Robert steps forward as a leader ready to take a stand for what's right.
What pleased me about this book is Gilman's suggestion that not all new things are good. Lovecraft Middle School was built upon old farm land, which was a refuge for all sorts of critters. The book's young hero uneasily observes the "newness" Lovecraft. His modern school drastically differs from the realm he discovers - far older, stranger and more dangerous than the school. The teachers encourage students to be thoughtful of what came before them, and how their actions affect those around them - for better and for worse.
Cuthulu is not a cuddly character, and I don't think Lovecraft meant for young children to enter his world without guidance. This simplified version of Lovecraft's imaginative science fiction realm is a quick read likely to hook young readers long enough to sell plenty of these eye-catching novels.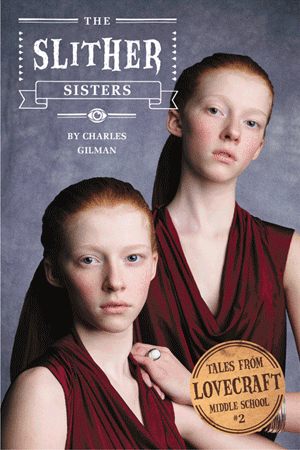 Book 2 of the Lovecraft Middle School Series,
to be released in January 2013.
If your young reader wants to be creeped out, these books should do the trick.
Behind this book is a team of creators, including comedian Doogie Horner, author Charles Gilman, illustrator Eugene Smith and cover photographer Jonathan Pushnik. A companion website, LovecraftMiddleSchool.com, is an online portal where young fans can sign up and explore the Lovecraft-esque world and learn more about the series.
I also recommend R.L. Stine's
Goosebumps
and
American Chillers
by Jonathan Rand. Kids looking for a rollicking adventure would be better off reading
Swiss Family Robinson
.
I acquired this book through Librarything.com's Early Reviewers program.
Professor Gargoyle
will be available at your local, independent book shop and library beginning September 25, 2012. $13.99, Quirk Books.